Must Read Articles About Pelvic Floor Ultrasound —
A Resource Guide
This clinical review presents key articles from the clinical literature that offer practical information to help guide the pelvic floor practitioner in using ultrasound. All featured articles are available through download or by request on the contact form, as indicated. Articles presented in this order:
Urogynecological ultrasound practice:

"Updated recommendations on ultrasonography in urogynecology"

Endoanal ultrasound as part of an anal physiologic testing protocol:

"Transrectal ultrasound, manometry, and pudendal nerve terminal latency studies in the evaluation of sphincter injuries"

The importance of perineal body measurement in endoanal ultrasound investigation: "Perineal body measurement improves evaluation of anterior sphincter lesions during endoanal ultrasonography"
Note: scroll down to see a video of how to perform a perineal body measurement during endoanal ultrasound
Comprehensive review of external and endovaginal pelvic floor ultrasound applications with relevant images: "Introital and transvaginal ultrasound as the main tool in the assessment of urogenital and pelvic floor dysfunction: an imaging panel and practical approach"
Using perineal ultrasound for dynamic pelvic floor muscle evaluation and patient biofeedback: "The use of perineal ultrasound to quantify levator activity and teach pelvic floor muscle exercises"
Multi-compartmental pelvic floor ultrasound imaging, describing the use of 2D, 3D, and 4D ultrasound: "State of the art: an integrated approach to pelvic floor ultrasonography"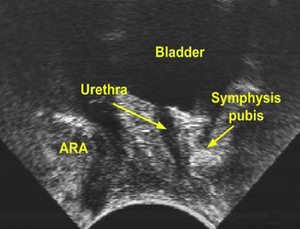 Updated Recommendations on Ultrasonography in Urogynecology
Tunn R, Schaer G, Peschers U, Bader W, Gauruder A, Hanzal E, Koelbl H, Koelle D, Perucchini D, Petri E, Riss P, Schuessler B, Viereck V. Updated recommendations on ultrasonography in urogynecology.
Int Urogynecol J.
2005; 15:236-241.
"Ultrasound is a supplementary diagnostic procedure in urogynecology, which allow documentation of functional and morphologic findings. The patient's history, clinical examination, urodynamic testing, and imaging continue to be the cornerstones of comprehensive urogynecologic work-up."
This article presents a practical, standardized approach to evaluating pelvic floor conditions, using affordable equipment and transducers for the clinical practitioner.
Recommendations distinguish between two techniques based on the type of probe: 1)
endocavity ultrasound
, specifically
endoanal ultrasound (EAUS),
using a 2D, 360
o
probe (10-12.5MHz); and 2)
external ultrasound
, for
transperineal ultrasound (TPUS),
using a general purpose probe (3.5-5MHz), or
introital ultrasound (IUS)
, using an end-fire vaginal probe (5-7.5 MHz). The introital approach is noted as particularly convenient as it uses the same probe as for endovaginal ultrasound (EVUS) applications.
This article details recommended standards for the urogynecologist, including image orientation, measurement methods, and examination position. It includes clinical applications for both endocavity and external ultrasound, and describes functional testing and the role of ultrasound in perioperative evalution of patients with surgical mesh implants.
Featured article available through the contact form on this page.
Related article:
ICS Recommendations on the evaluation and treatment of urinary incontinence, pelvic organ prolapse, and fecal incontinence.
Download Article >